About Us
I was born and raised in Belfast, Northern Ireland. I married an American serviceman and moved to this great country to be with his family. We have been married for more than 51 years and have 4 wonderful children and many beautiful grandchildren. My family and I love Yorkies and they have been a part of our lives for many years.
We have a small kennel located in Greenville, South Carolina, U.S.A. I have shown dogs for many years.  As a responsible Yorkie breeder I strive to produce puppies as close to the AKC standard as possible. It is my goal to produce puppies that are sound both in body and mind while maintaining the outstanding temperament that the Yorkshire terrier is so well known for. I have chosen each of my Yorkies to ensure quality, healthy lines.
The Yorkie standard is 4 to 7 lbs., though some can be smaller and some larger. A Yorkie smaller than 4-lbs. is sometimes called a tiny or a teacup, though a normal 4-lbs. Yorkie is itself quite small. There is nothing in the standard that refers to either tiny or teacup. These smaller puppies should be just as healthy as a bigger dog if born healthy and from a good line. They will need extra care as they are more easily injured. A 2-1/2 -3-1/2 lb. dog can make a wonderful pet in the right home setting. Due to their smaller body weight it can be riskier to put them to sleep for surgery ( teeth cleaned..spay..neuter ). At times I have these smaller  puppies which should mature under 4-lbs.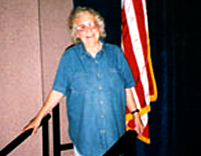 This website is dedicated to my mother, shown here proudly accepting her American citizenship in February 2000.
A mother's love's a blessing, no matter where you roam. Keep her while she's living, for you'll miss her when she's gone.
"For God so loved the world that he gave his only begotten Son, that whosoever believeth in Him should not perish, but have everlasting life." John 3:16